Last year I met a couple at the Dizzy Goat 3-6-12 Hour Race in Gretna, NE put on by the G.O.A.T.z., (Greater Omaha Area Trail Runnerz). Later in September at TNF ECS WI, I bumped into them again and as we were talking, they started telling me about this young lady from their area that was tearing up the trails and winning races one after another, some of them outright. Her name was Kaci Lickteig, aka, the Pixie Ninja.
The night before this year's Dizzy Goat, I was staying in a hotel just south of Omaha as a storm unleashed outside. Both Kaci and I were on social media at the time and talking about how crazy it was pouring down. I told her I was racing the 6 hr the next day, and she said she'd be there to volunteer. We made plans to say hi, and sure enough, a few loops in, there she was at the start/finish line aid station, helping out runners as they came through the end of their laps. Kaci was very nice, encouraged me in the high heat & humidity, and even filled my handheld bottle for me a couple of times. What other sport do you get volunteers, who just a few days later, compete in the superbowl of their discipline, aka, Western States, where Kaci came in 6th with a time of 20:07:10. Amazing!
Kaci graciously allowed me to send her some questions so I could interview her after her most recent triumph at the end of September.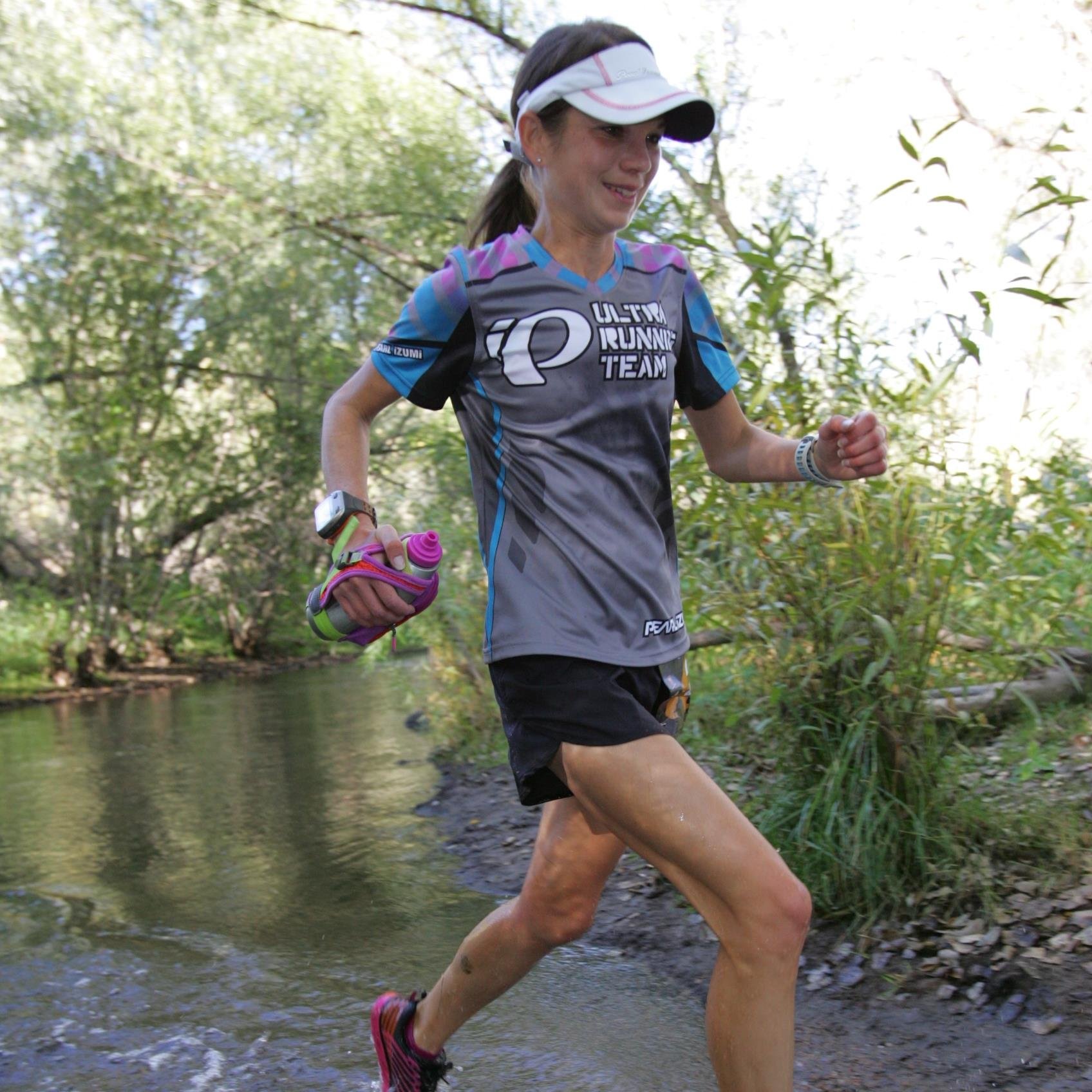 Stream crossing in her Pearl Izumi kit.
Brad Zinnecker/Trail Running Faith: Kaci, you did awesome on your most recent race, tell us about it...
Kaci Lickteig: Thank you. I ran The Bear Chase 100K in Lakewood, Colorado. It is a 12.5 mile looped course on mainly single track terrain. I had run the 50 mile last year and loved it. It was on a different course in 2013 due to the flooding, so I wanted to see what the real course was like. I loved the course this year as it was almost 100% trail and it had 3 water crossings per loop.
I had an excellent race. I wasn't sure what to expect, since it was my 2nd 100K. My first was over a year ago. I started with a pace I 'felt' like I could hold for the 62.2 mile distance. I was very consistent with my loop splits and only started to slow down on my 4th and 5th loops (5 total for the 100K). I attribute that to the distance and the warm weather conditions. However, I ended up finishing strong and I improved my 100K time by over an hour. It was a great experience.
Brad: That's incredible! Kaci, you won this race outright, 1st overall, and by over an hour---what's that like? A lot of us can dream about that but never actually realize it.
Kaci: It still surprises me when I win a race outright. I just know to run my own race and stay within myself and I will have the race I am meant to have. It is a great feeling, but finishing in itself is just as great and rewarding.
Brad:
Very true, I remember the emotions that struck me as I prepared to run down the straight away to the finish of my first 50K.
Tell us about this race...what is special about the
Bear Chase Race
? Why did you choose it? Why should others consider it?
Kaci: Like I said, I had run it last year and loved every bit of it. It is very organized and runner friendly. Last year when the race was almost cancelled, the Race Director contacted every runner by phone to let them know. Now that is admirable by an RD. I believe it is a wonderful event for beginners to experts to run. The loops make it crew and runner friendly along with the trails being very runnable. You get a bit of everything to experience---hills, water crossings, trails, etc. It is great for beginners because they have multiple distances so that you can get a true feel of what trail running is like. I highly recommend it!
Brad: It sounds very tempting! Tell us Kaci, what went well for you on this race? What did you learn? What would you do differently?
Kaci: I ran even splits and stayed focused throughout the race. I learned that I can push limits that I didn't think were possible. I would have tried to get in a few more calories my last two laps. I was on the verge of being nauseated so I had to be careful. Otherwise, I felt I executed the race very well.
Brad: Kaci, as you learn to push through your limits and discover more of your ability, the rest of us stand in awe!!! Keep it up! Some amazing things await in the future I think!
At the same time, in most ultras, there's always something we have to deal with...you mentioned nausea, what other struggles did you have that you had to overcome?
Kaci: I struggled with keeping cool and not getting overheated. The course is pretty open and there were no clouds out that day. The temps rose to the mid 80s. I found that by dumping water over my head and getting cooled down in the water crossings helped. The important thing was to keep my face and core temperature down.
Brad: Yes, that's so true. I loved that at the Dizzy Goat they had those cold, wet foam cloths at the start/finish aid station to wipe/cool off your face, head, neck. So key on those hot days.
What do you think is the connection between suffering and endurance, physically, spiritually?
Kaci: I think there is a strong spiritual connection with endurance events. I feel like you have to let go and let God in these situations. I find it calming to pray during the race, whether I am feeling good or bad. I always think back to times when Jesus suffered, and know that I am in no way close to what he has been through. I know I can persevere on with Jesus on my side.
Brad: I agree. Whether things are going well at the moment, or things seem to be unraveling, Philippians 4:13 is a good reminder, that "I can do all things through him [Christ] who strengthens me." Faith is both needed and can be deeply nurtured through the perseverance and strength gained in endurance events like trail and ultrarunning.
Kaci, what would you attribute your success in ultrarunning and running to?
Kaci: I attribute my success in ultrarunning and running to be from having such a passion for running. I love to run and enjoy being able to see results from the work I put in. I have a driven Type A personality that helps keep me focused on never settling for mediocre. I strive to be the best that I can be. Hard work and dedication is how I have become the runner I am today.
Brad: What/how do you find joy?
Kaci: I find joy in running by feeling free and the rush of endorphins from running. It is my 'social hour'. It makes my day complete. I simply love it!
Brad: What's next for you?
Kaci:
I am running a 50K rails to trails race which is part of the
Market to Market Relay
here in Nebraska. I am looking forward to running with some fast competition and seeing if I have improved since last year.
Brad: Anything else you'd like to add?
Kaci: Always keep running fun and interesting. Never allow it to become a chore. Believe in yourself and let go and let God!
Brad: Thanks Kaci! Kaci is one of the nicest young ladies I have met out there running. She has a wonderful smile and a very helpful, encouraging attitude. But don't let that fool you, when she's racing, she's racing to run her best and win. She is the Pixie Ninja!